What's The Difference?
"Because of demand, we are a guide service that had to build a lodge, and purchase 11 more boats."– Jimmie Jack
JJF Difference:
Full Day River Trips

Excellent Boats

We Catch Fish

Jimmie Jack Trained Guides

Spectacular Accomodations

Good Food

Longevity – Since 1995
---
Full Day (8 hour) River Trips:  You get more quality fishing with the Jimmie Jack Fishing Co. All of our King Salmon Trips are full day (8 hour) trips. Why a full day and not a half day? Simply, you will catch more fish. A full day really gives everyone on the boat a solid chance to catch a Trophy King Salmon. On full days, we can take our time through productive fishing holes, change techniques when needed, and fish a larger stretch of river. We can teach you more about our techniques and equipment. All guests will get to fish at least one tide of incoming kings. Our past guests have voted for the full day trip, and we agree. We have found that full day trips will leave you with a more memorable experience of quality fishing.
JJF Boats: One thing that sets us apart from our competitors at Jimmie Jack fishing is the quality and cleanliness of our boats. We have the best boats, and some say the best looking boats on the water. Our river boats are "Simply the Best" of the fleet, Willie Boats.   From the beginning, Jimmie Jack has always taken pride in having great boats.  "Life is too short to own ugly boats" – Jimmie Jack
We Catch Fish: JJF is a "guide service that had to build a lodge."  Jimmie Jack's focus has always been catching fish and having fun with guests. This focus is how we built the JJF reputation and this focus continues to be our strategy today. Our guide training is key to our success.
JJF River Guides:  Jimmie Jack's river guides are not hired subcontractors from the Kenai River system.  Over 90% of the lodges in the Kenai area book trips, and then hire the number of subcontractors needed, with some subs only fishing in peak times.  These lodges do not have their own guides.  Keep in mind that any guide worth his salt is already booked.  For quality control, Jimmie Jack's guides are personally trained by Jimmie Jack, and fish every day with the experience to back it up.   With Jimmie Jack Fishing, you get JJF River Guides, with JJF boats.

A Nice Halibut On The Line

Happy Halibut Fishing!

Professional Guides

Silver Salmon Action!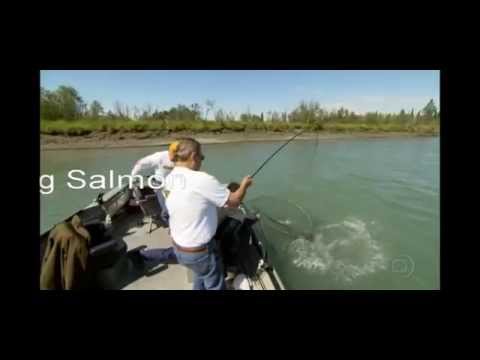 Hatco Port Side Running B
JJF Accommodations: Guests at our lodge enjoy private bathrooms, and a spectacular beachfront location on Cook Inlet.  Our lodging is acceptable to our lady guests!  Groups of men come for a guy trip, and then go back home and bring their wives back up.  Cleanliness is our policy.
JJF Longevity:
We have a commitment to excellent service here at the Jimmie Jack Fishing Co.  We have been guiding the Kenai River and Kenai Peninsula
since 1995
.